Ronald Belford Scott was born on 9 July, 1946 in Forfar Scotland and grew up in Kirriemuir. The second child to Charles Belford "Chick" Scott and Isabelle Cunningham "Isa" Scott. His older brother Sandy died as an infant, and his younger brother Derek was born in 1949.
In 1952, the Scott family moved to Melbourne Australia and Ronald attended the Sunshine school. His brother Graeme was born in 1953.
Finally settling in Fremantle, Western Australia in 1956, Bon attended North Fremantle Primary School where he first garnered the nickname "Bon" – a reference to either Bonnie Scotland or a Bonnie Scot – and a convenient differentiation from another Ronald in his class. He joined the Fremantle Scots Pipe Band, learning drums and was exposed to fife and recorder ("I knew how to blow and finger" he once cracked). He dropped out of Art College in 1961 at the age of 15 and spent the next three years doing manual labor jobs and having run-ins with the law, doing time the Riverbank Juvenile Institution. He was labeled "socially maladjusted" – a real-life Problem Child.
Bon's early music career started with The Spektors and The Valentines, two cover bands where Bon developed his drumming and lead singing. Both were fundamentally cover bands, releasing versions of songs by The Easybeats, The Foundations, and others. In an era before a properly global music business, a band like The Valentines could have an Australian hit with a track like "Build Me Up Buttercup" – complete with local TV performances and matching one-piece jumpsuits – and an entire country would think it was their song. Bon played drums and was the co-lead singer of The Valentines, who disbanded in 1970.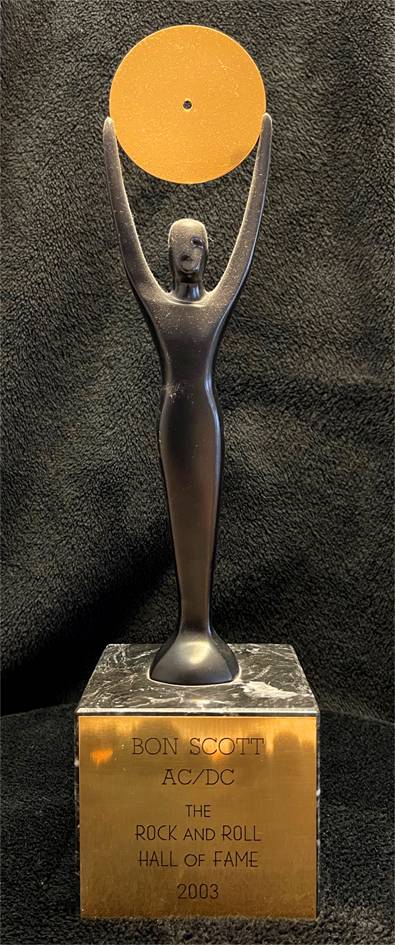 Fraternity was a completely different musical experience altogether. They played longer songs (mostly covers) vaguely in the progressive rock vein, with Bon singing and playing recorder on their cover of "Seasons Of Change". They were regionally quite popular, winning Go-Set magazine's "The Next Big Band" honor and appearing on national TV.
When Fraternity broke up, Bon went back to odd jobs, but started to develop his songwriting. His friend Vince Lovegrove from The Valentines had heard from George Young that an up-and-coming band from Sydney that Vince loved called AC/DC were looking for a new singer. Vince got Bon to join the band onstage in Adelaide and there was an instant bond over Little Richard, Chuck Berry, and the shared Scottish roots of the Scotts and the Young brothers, Angus and Malcolm.
From 1974 to 1979, AC/DC released an astonishing catalog of 6 studio albums. Songs like "It's A Long Way To The Top (If You Wanna Rock n Roll)", "Big Balls," "Dirty Deeds Done Dirt Cheap," "T.N.T.," "Jailbreak," "Let There Be Rock," "Whole Lotta Rosie" and of course "Highway To Hell" are undisputed classics in rock history. The magic alchemy of Angus and Malcolm's riffs along with Bon's wonderful lyrics became a template for just about every band who tried to rock after them. Most failed.
You simply do not imitate Bon Scott. He was one-of-a-kind. The kind of guy who just might take care of your school bully for a couple of bucks. A master of Ball-room etiquette, an early champion of body positivity, and personal friends with Satan himself. He would likely steal your girlfriend when you weren't looking. Or would he? He's just kidding around, right? Right….?
Sadly, Bon passed away on February 19, 1980 just weeks after the conclusion of the Highway To Hell tour. 41 years later and Bon's legendary status has only grown. His influence on rock lyrics, singing and performance are indelible. So much style for such little wardrobe. It is indeed a long way to the top, but in Bon's case it always seemed like there was nowhere to go but up.